Our bikes weight heavily on our backs as our steps take us closer to the top of a 4900 meter pass. Our lungs struggle for air while 2000 meter above us the suspended glaciers of the Ausangate peak rise vertically above us. This is definitely something nobody tells you about high-altitude adventures: no matter how fit and how well acclimatized you are, it never feels easy.

Up here you have about half the oxygen you normally have at sea level and no matter how many red blood cells your body produces you'll never be at 100%. More like 60-70% if I judge by the powermeter which I mounted in my bike before leaving. If you compound this with the fact that carrying a bike and 12-13 kilos worth of luggage on your back is never easy you get the feeling of how this actually feels.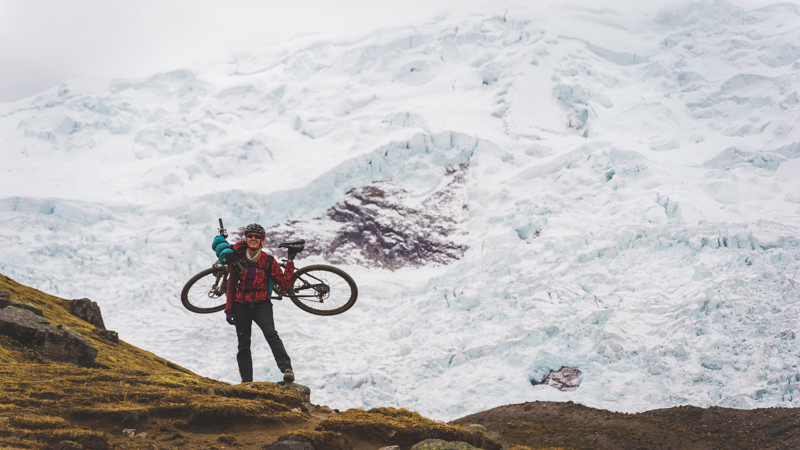 But then again this is exactly what we signed up for. To be in the middle of the mountains, on a trail, in the middle of nowhere with no-one in sight, with a perfect trail for the downhill and with the most amazing scenery you can imagine. So really, there's nothing to complain about, but at the same time it certainly does not feel easy.
Ausangate is one of the highest peaks in southern Peru, and besides being the place where one of the biggest festivals takes place, is also home to a series of trails which are inviting both for backpacking and for bikepacking.
In comparison with other mountain ranges in Peru where you inevitably encounter a mix of cut steps and rocks on the downhill, over here the trails are quite rideable, both when going up and when going down. Probably with a decent mountain-bike and with a moderate level of mountainbiking you will finish each descent with a smile on your face.
We certain have that smile when we reach our camping spot for the night, besides a lake at 4600 meters, with the vertical granite walls of Ausangate above us. The sound of falling debris from the glaciers above continues through the afternoon, with the mountain itself shrouded in clouds.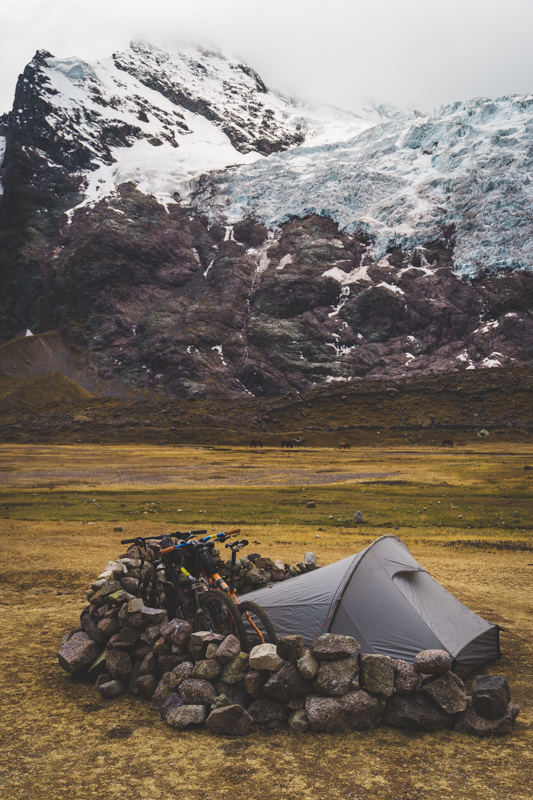 We start the next morning with the same ritual we've repeated for the past 3 months spent in South America: brewing coffe, making porridge, reading, enjoying amazing scenery from the door of our tent. The mix works well also for this morning and it provides all the energy and enthusiasm to tackle the next couple of passes for today, a 4700 meter one and yet another 4900 meter one, fortunately without any big descents and ascents between them.
The mountains remain shrouded in clouds for the most part of the day but this makes us appreciate even more those brief short periods when the sun clears and we get our dose of sunshine for today. While we're lucky enough that the skies clear just as we reach the final pass of the day, it doesn't last long. But somehow that makes us appreciate it even more. Dark and menacing clouds are moving in from the Amazon as the rainy season is approaching fast, and the clear skies of summer are a thing of the past.
Our time in South America is also almost at an end, and as we ride the long descent into Tinki I look back one last time over the shoulder to Ausangate. Now covered by thick dark clouds it looks almost menacing. Soon starts to drizzle and I wonder when we will get back here, because we've fallen in love with the mountains of Peru. I'm fairly sure that there are countless adventures to be had and many trails to be discovered and I'm equally sure that we will be back.
Tracks for the three days:
Day 1, from Checacupe to Uchullujllo:
https://www.strava.com/activities/2700565041
Day 2, from Uchullujllo to Pucacocha:
https://www.strava.com/activities/2700564075
Day 3, from Pucacocha to Tinki:
https://www.strava.com/activities/2700744059
Useful information:
the 2-3 day bikepacking adventure can be done either as a side-trip from Cusco or on-route if going south to Bolivia
there are regular busses to Tinki and Checacupe, several times a day, taking around 2 hours
almost no supply points in between Pitumarca and Tinki
carry a water filter, even though it might look safe, mountain water is not really safe to drink in Peru (we've learned it the hard way during the previous months)
I would say it's best to do it in the direction Pitumarca-Tinki, the trails are nicer and more rideable on the descent.
local communities / owners charge a small tax for keeping the camp-sites, this should be around 10 sol / person.